popular crepe cake in 2021
Crepe cake is very popular these years. Many people like to eat it such as children, adults and olds.
It has many different flavours like chocolate,mocha,durain,tiramisu,strawberry,blue berry and lemon.
It is made of 15 layers crepes and 15 layers cream.It takes long time to beat cream and make crepes.
Stand mixer can save time and labor for beating cream with high quality effect and short time.
The automatic crepe maker can make same quality crepe and tastes with short time and less labor.It is excellent tool for crepe cake business.
Here is the recipe of crepe cake and steps.
Ingredients for Crepes (makes 15 crepes):
1/2 cup warm water
1 cup milk
4 large eggs
4 Tbsp unsalted butter, melted, plus more to sauté
1 cup all-purpose flour *measured correctly
2 Tbsp granulated sugar
pinch of salt
For the Crepe Cake Frosting:
1 cup (16 Tbsp) unsalted butter, softened at room temperature
12 oz sweetened condensed milk (from a 14 oz can – filled by weight)
8 oz cream cheese, softened at room temperature
2 tsp vanilla extract (make your own with 2 ingredients!)
How to Make Crepes:
1. In the bowl of a blender, add the crepe ingredients in the order they are listed: 1/2 cup warm water, 1 cup milk, 4 large eggs, 4 Tbsp melted butter, 1 cup all-purpose flour, 2 Tbsp sugar and a pinch of salt. Blend until well combined, scraping down the sides with a spatula if needed then set aside.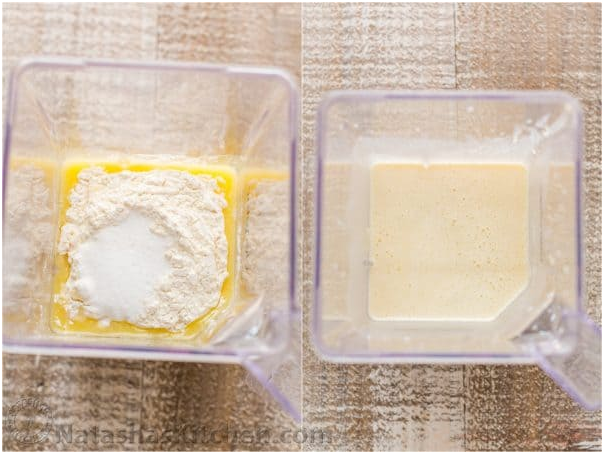 2 to put premixed batter into plastic container of autoamtic crepe maker.
Turn on the machine,then the crepe can be made automatically.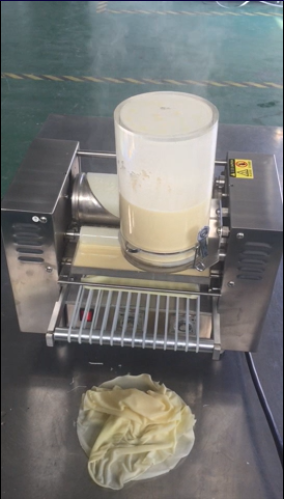 How to Make Crepe Cake Frosting:
1. In the bowl of a stand mixer fitted with whisk attachment, beat butter and condensed milk with whisk attachment on high speed 7 minutes. It should look whipped and lightened in color.
2. Add 8 oz of softened cream cheese 1 Tbsp at a time while mixing on medium high speed. Continue beating for 3 minutes or until no longer lumpy. Add 2 tsp vanilla and whisk until well incorporated and smooth. Some tiny lumps are ok and will not be noticeable once the cake is ready to enjoy.